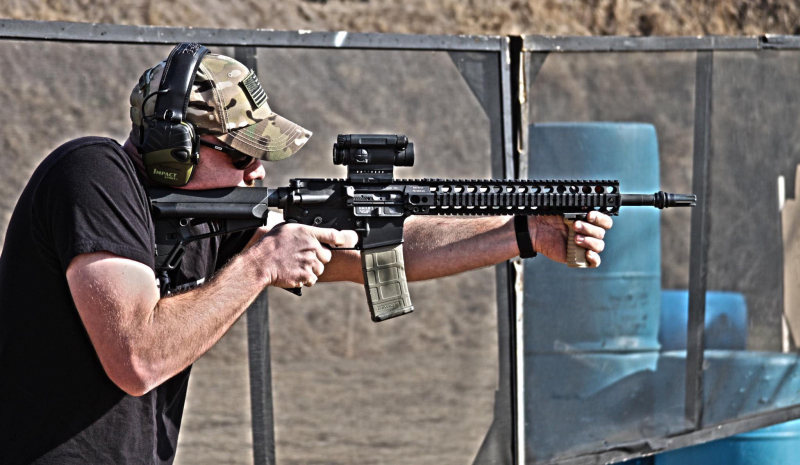 121 – DEFENSIVE RIFLE SPEED AND ACCURACY SKILLS/ Pryor Creek, OK
with Geoff Portman
$17500
Open to: Anyone
Course Description: This program is the course you need if you plan to use a rifle to defend yourself. It follows the same learning principles as the handgun programs but focuses on the M-4/AR-15 or AK type platforms as a self-defense (or operational uses for Military and Law Enforcement operators). This training program is a complete tactical rifle training program designed to teach you how to train for combative purposes with a rifle as your primary weapon. The program will take your rifle shooting to the next level. It is a close/medium range course designed for those who will employ a rifle a close to medium ranges (10-100 yards). The program is like nothing else available today, focusing in not only the execution of skills but in the process to properly train those skills and subsequently improve your results. This course includes a free video download of all of the essential drills!
Class Learning Objectives:
Rifle and Gear Setup
Rifle Zeroing Principles
Rifle Manipulation Techniques
Principles of the Firing Cycle (high performance marksmanship)
Principles and Use of Cover
Concepts of a Proper Live Fire Training Session
 Required Gear:
Serviceable rifle and magazines (2-3) or speed loaders (2-3)
Handgun and carry gear (we recommend your daily carry holster and gear)
500 rounds rifle ammunition*Note, this is an estimated quantity due to the unique flexibility of the program, students may shoot more or less    
100 rounds handgun ammunition 
Firearm and all related equipment
Notebook and pen
Personal protective gear (eye and ear protection)
Cup and mouthpiece (during some drills these are optional protection)
Dummy rounds appropriate for your rifle (10)
Water, snacks, chair, sunscreen, or any other personal comfort items desired.
May

18th

,

2019

from

9:00 am - 5:00 pm